With cartoons or illustrations, whimsical line art or full color realism, the variety of Benas art continues to be highly sought after, and books are a perfect showcase.  Her illustrations have graced many publications, including children's books and humor books, serious books and text books, human resource and safety publications, and even coloring books.  Book illlustration has become a significant client request over the years, from publishing houses to individuals who wish to self-publish.  Benas art enhances them all.   Here are just a few samples.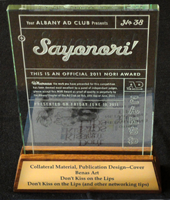 Among them is the book
Don't Kiss on the Lips
which was a NORI Award winner in the Albany Chapter of The Ad Club for Publication/Cover Design.
Additional Book Covers are shown below.  They were produced for a variety of clients, and in a variety of techniques, all on time and on budget. If you don't see exactly what you need, just ask for it.  More samples are always available.
Variety & Versatility are Benas trademarks.