Jeanne A. Benas
Jeanne A. Benas: cartoonist, illustrator, caricature artist. Since graduating from Syracuse University with a degree in advertising and illustration, diversity has characterized Ms. Benas' commercial art career.   And growing up with with her mom, cartoonist Kay Kato, she started her art career much earlier, when the two of them appeared  together on live TV drawing cartoons, when Jeanne was just three years old.  She never stopped drawing, and has her mom Kay Kato to thank for that.  To see how  Jeanne's art was influenced by her mom's art, please check out the new website of Kay Kato   http://www.KayKato.com
With that influence, and from her work as fashion illustrator, ad agency staff artist, editorial artist and art director, Ms. Benas has woven together all those skills into the fabric of her present career.
Now heading up her own Art Studio, she specializes in cartoons, caricatures, and illustrations for any project.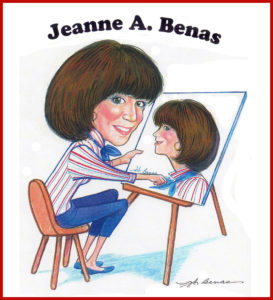 Call or email today for more information:
(713) 586-0301 or (518) 466-0284 • Email: Jeanne@BenasArt.com
These samples show a few styles from the variety of work at Benas Art Studio.  Check out the pages of Cartoons, Illustrations, Books, Portraits, Caricatures from  Life and Caricatures from Photos for more.